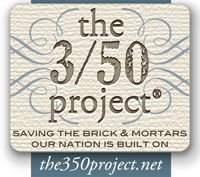 What's the 3/50 Project, you ask? It's a movement started by retail expert Cinda Baxter, designed to "save your local economy three stores at a time." And it's a movement that we shopgirls are happy to get behind.
Did you know that if half the U.S. population chose three independently owned stores and spent just $50 a month there (across all three stores, not $50 in each one), those purchases would generate more than $42 billion in revenue? Not only that, but for every $100 spent in independently owned stores, $68 returns to the community through taxes, payroll, and other expenditures. That amount drops to $43 if you shop at a national chain and to $0 if you shop online.*
Next time you need to make a purchase, think about which independently owned store you could visit instead of a chain. You can pay it forward (and improve the local economy) just by shopping at a local shop. It just takes one person to start a trend ... wanna be the first?
For more information, please visit the movement's website.
*Information obtained from The 3/50 Project.